The time has come for Codemagic by Nevercode to launch pricing. Continue reading for an overview of our pricing policy.
Since the launch of Codemagic at Flutter Live in December 2018, Codemagic has been a free service for everyone. Now, after four months of hard work to make Codemagic the product it is today and continue the growth, we have decided to roll out pricing aimed at professional Flutter app developers starting from May 8th, 2019.
Why is Codemagic launching pricing?
We have put a lot of effort into shaping Codemagic into a mature continuous integration and continuous delivery service. Now that Flutter itself is gaining more ground among professional mobile developers and development agencies, we feel that introducing pricing for those users will help us grow into a CI/CD service that better meets professional developers' needs and requirements. This means we are going to invest into a better performance and greater stability of our service along with adding new features to ensure that Codemagic is the go-to CI/CD tool for Flutter app developers.
In addition to our standard pricing (read about it in the next section), we are ready to support enterprises whose needs go beyond our standard service by tailoring the CI/CD service to their specific requirements. Contact us for more information.
How much will it cost to use Codemagic?
Instead of stripping down or limiting the service for some users, our pricing model is based on build time and the number of team members. This way, all users will be able to benefit from all the features that Codemagic has to offer. Pricing will apply for teams with three and more members and professionals with build time exceeding 500 minutes every month.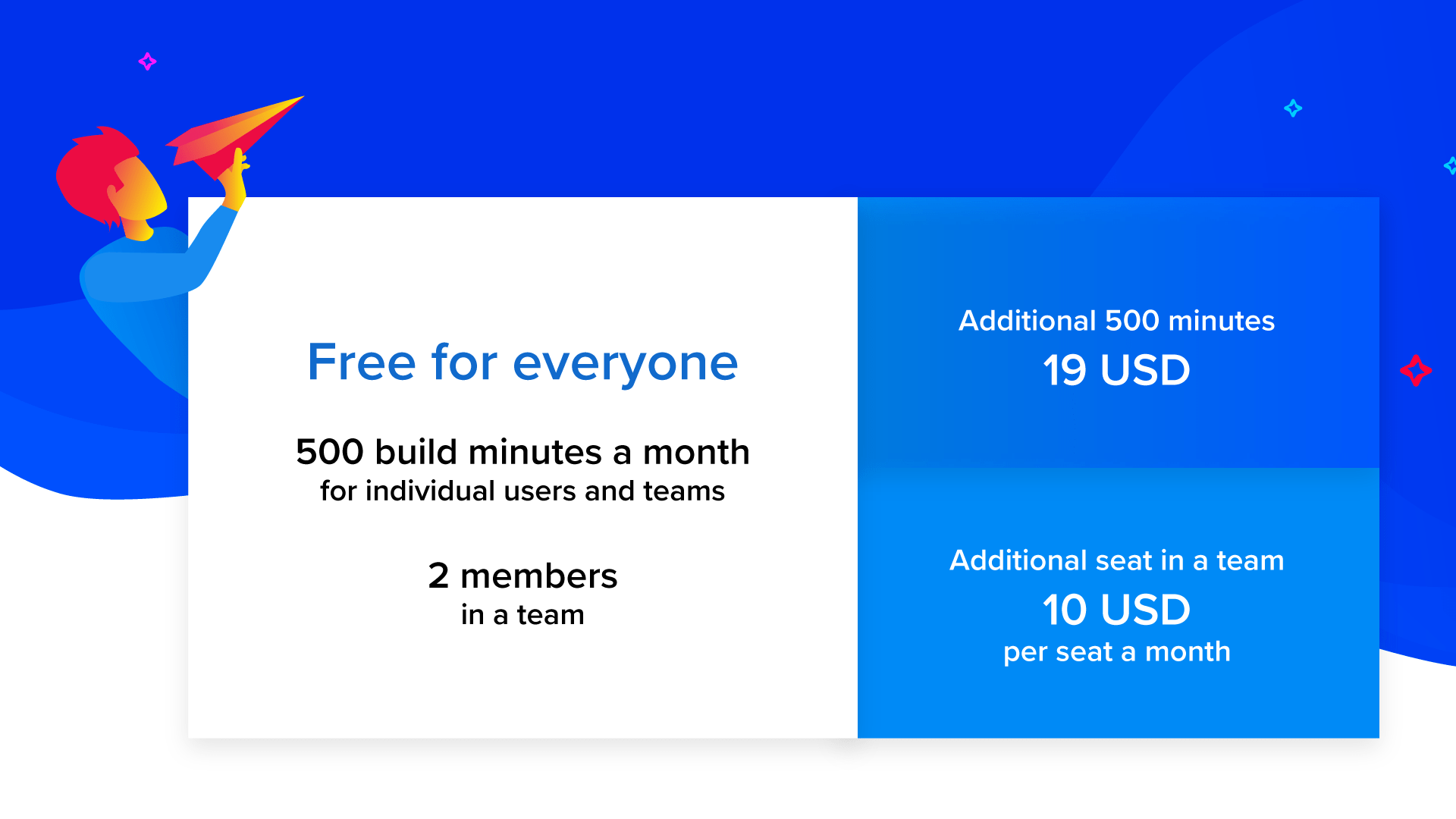 Every month, all users get 500 minutes of build time for free. If you use up all that time, you can buy an additional 500 minutes for 19 USD.
In summary, our build time calculation will follow these four principles:
There will always be 500 free minutes on your account at the start of every month.
Paid minutes will be used when the 500 free minutes have been depleted.
Paid minutes will remain available on your account until they are used up (i.e. they will not expire).
Timeouts and internal errors will not use any of your build time.
Codemagic CI/CD for teams
Teams of two, including the owner of the team, will remain in the free tier, whereas teams of three and more will need to purchase seats on the team to keep using the service as is. Each additional member will cost 10 USD a month.
Teams will also have a separate build time account with 500 minutes of free build time every month. The same rate applies for build time as for individual users.
How is billing going to take place?
Users can be billed either as individuals or teams. One user will receive one invoice per month covering all the services purchased. For example, if you have a team of four members and purchased 500 minutes in the middle of the month, on the first of the next month, you will be billed for $39.
Will there be discounts for open-source projects and students?
If you're a student, educator or a developer of an open-source project and would like to get a special offer, get in touch with us to discuss your needs.
What will change for existing users from May 8th, 2019?
Codemagic will continue to be available to all existing users with its full feature set. All existing users will get 500 minutes of build time for free every month. Depending on how much build time you use up in a month or how many members you have in your team, you might be eligible for a free service or would need to purchase extra build time or seats in a team.
Users that have teams with more than two members will have two weeks to decide whether to decrease the number of team members to avoid paying for the feature or purchase additional seats.
To sum up
We've seen the need for implementing pricing as the Flutter community has grown. In fact, various companies and developers have asked us about pricing ever since we launched Codemagic. While our pricing policy will require many of our existing users to start paying for CI/CD, we are happy to continue to accommodate for the needs of hobbyists and indie developers free of charge.
The Nevercode team along with our CEO Triin Kask will hold a live Q&A session on April 25th and May 2nd at 4 PM UTC (5 PM London / 12 PM New York / 9:30 PM New Delhi) via Zoom, a free software for having a group call, to give everyone a chance to find out more about our pricing policy.
Come and join us to speak your mind!