Kaboom! In January, CI/CD for Flutter announced more than 10 product updates and this is just the beginning. Developers have by now saved 244 020 minutes with Codemagic CI/CD 🤩
February has been short and sweet. We have added some valuable features to Codemagic and have some pretty epic news to share.
Product updates
Changes in build logic
Codemagic recently changed the order of build steps by moving the Running tests step up to precede Building Android app and Building iOS app.
Now, we have added an option in the UI to stop the build when tests fail, enabling you to get the result of the build faster. In your App settings, check the Stop build if tests fail option to stop the build should any of the tests fail.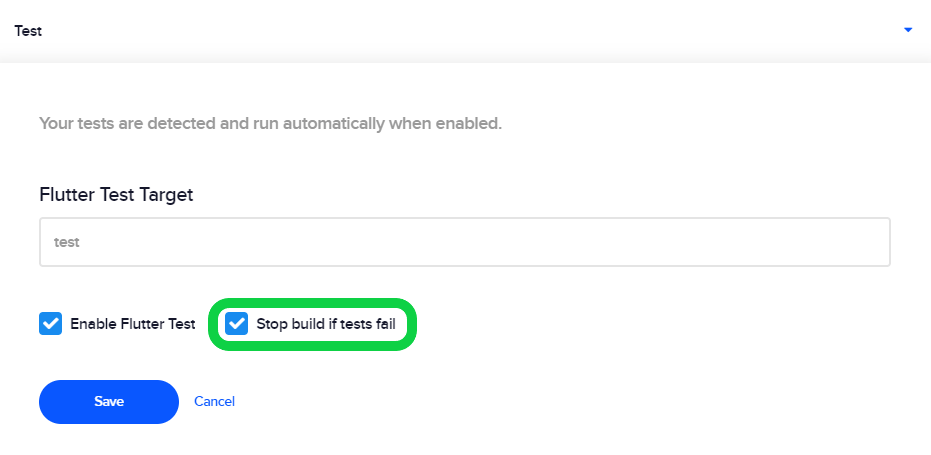 Environment variables
Environment variables are useful for storing information that you do not want to store in the repository, such as your credentials or workflow-specific data. You only have to enter the name and the value of the variable, check Secure if you wish to hide the value in UI and click Add.
To access a variable, add the $ symbol in front of its name. For example, access API_TOKEN by using $API_TOKEN.
Check out environment variables here.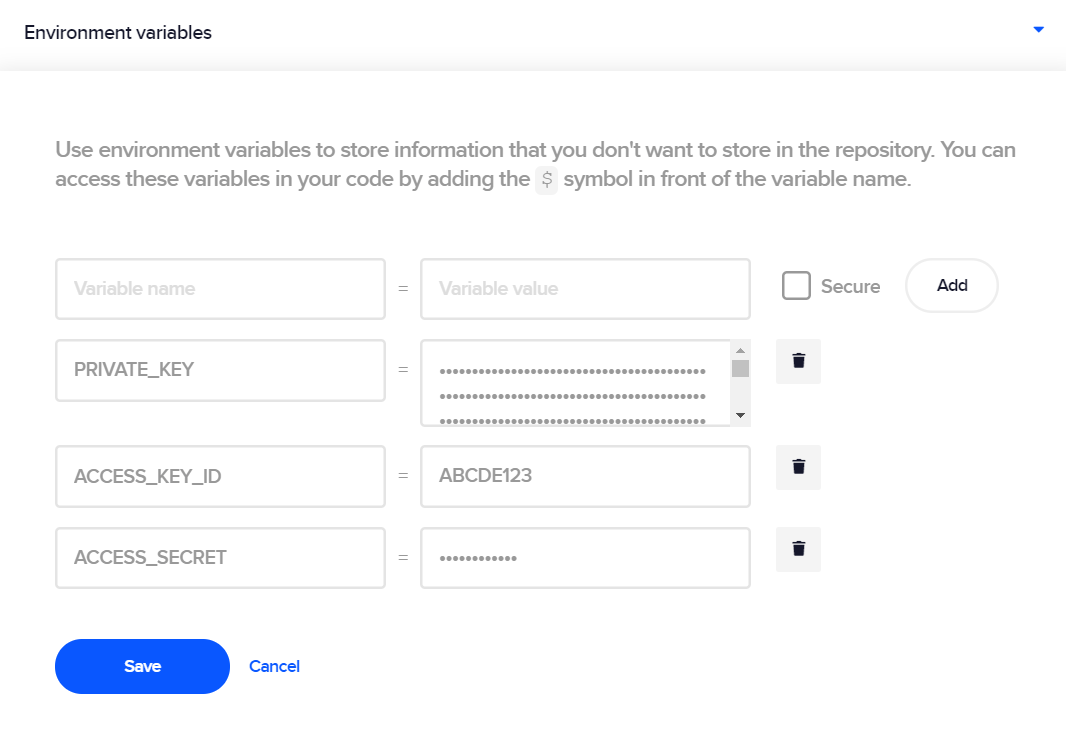 Build status badges
This has been a desired feature for Flutter developers. It's now possible to display your app's build statuses by embedding the status badge to your repository's README or website. Clicking on the badge will redirect you to the corresponding build on Codemagic. The available statuses are passed, failed, tests failed and unknown.
Here's how to display the build status of an app:
1. Go to app settings.
2. In the Workflow settings section, click on Build status badge to view its details.
3. Copy the contents of the Badge markdown field and paste it into your repository's README or website.
Build status badges are workflow-specific and correspond to the latest build in a workflow, meaning that the build status is updated only for the branches tracked by the workflow.
Set up build status badges for your green builds.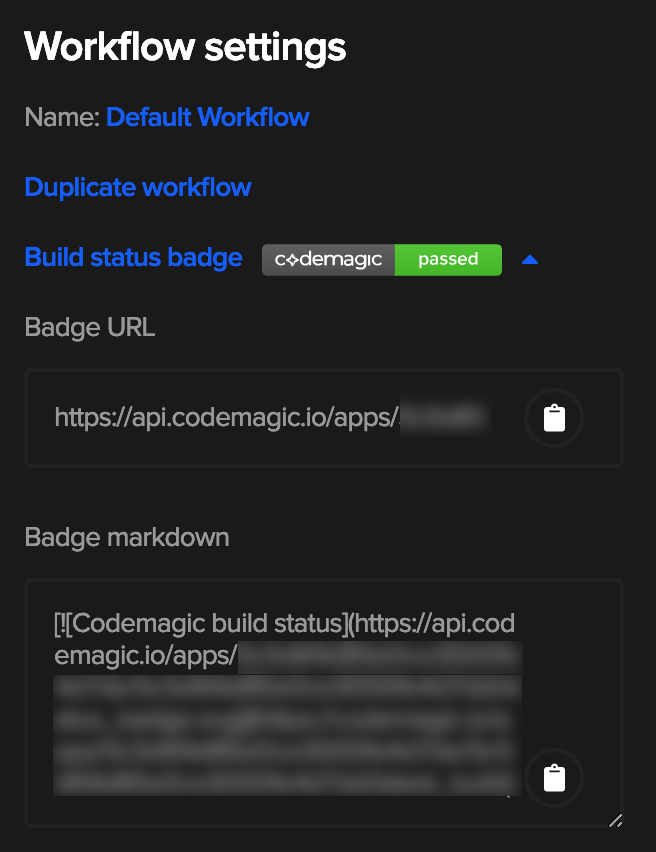 Flutter Meetups
Connecting with Flutter enthusiasts and collecting first-hand feedback from Flutter developers is our top priority in order to build a seamless CI/CD service for Flutter. "CI as smooth as Flutter" has traveled around the globe and collected a lot of positive feedback. From India to London. From Estonia to Barcelona.
In the beginning of the month, [Martin Jeret](https://twitter.com/martinjeret) from Codemagic visited Asia. Under Dash's keen eye, Martin gave an enlightening talk about Codemagic CI/CD for Flutter in Kolkata for [FlutterFebruary](https://www.meetup.com/GDG-Kolkata/events/zdnbsqyzfblb/), [Mumbai Women Coders](https://www.meetup.com/mumbai-women-coders/events/258288383/) Meetup and at GDG Ahmedabad.
> "One thing that stood out for me in India was the people's motivation and work ethic. I only saw meetups early mornings and on the weekends in India, which was amazing and people were really enthusiastic about learning Flutter!" - **Martin Jeret**, Business developer**Andri Jasinski** from Nevercode.io demonstrated the power of Codemagic at the [Flutter London Meetup](https://www.meetup.com/FlutterLDN/events/256834912/). CI/CD for Flutter, from setup to publishing to App Store and Play Store. ![](/uploads/2019/03/IMG_jrmwmn.jpg) If you missed the talk or would like to double check some CI magic, here's the [full presentation](https://skillsmatter.com/skillscasts/13468-ci-as-smooth-as-flutter ). > "I was giving a speech at London's Flutter developers meetup and it was so good! The audience was just incredible. They were living this 45 minutes together with me, following along my demo and asking the right questions. > > Looking forward to coming back!" - **Andri Jasinski**, Software Engineer Next [Flutter London Meetup](https://www.meetup.com/FlutterLDN/events/256834949/) is taking place already in the middle of March, featuring [Frederik Schweiger](https://twitter.com/flschweiger) and [Brian Egan](https://twitter.com/brianegan). Check out all the details [here](https://www.meetup.com/FlutterLDN/events/256834949/) and book your spot now! ## MWC19 Barcelona Codemagic was honored to be invited to participate with the Flutter team on the [panel session with partners at the MWC19](https://www.mwcbarcelona.com/session/flutter-google-toolkit-for-building-mobile-experiences/). Google launched version 1.2 of Flutter, its open-source mobile UI framework that helps developers build native interfaces for Android and iOS from a single code base. The company also previewed a new web-based suite of programming tools called Dart DevTools to help Flutter developers debug and analyze their apps. You can read about Flutter 1.2 in depth from [Google Developers blog](https://developers.googleblog.com/2019/02/launching-flutter-12-at-mobile-world.html). Watch the top highlights from MWC19 including the release of Flutter 1.2, Dart 2.2, and hear from Flutter team and partners on the use of Flutter for business, development, and design. The session are all now available on this playlist → [http://bit.ly/2EGAaM2](http://bit.ly/2EGAaM2 "http://bit.ly/2EGAaM2") ## Testmagic.io Among other Flutter announcements made at MWC' 19 is the [Testmagic](testmagic.io) app by [Nevercode](nevercode.io). Nevercode has been supplying Flutter developers with the needed development tools dedicated to Flutter since the Flutter Live event, when we launched [Codemagic](Codemagic.io) CI/CD for Flutter. Now, growing along with Flutter, Nevercode's newest tool Testmagic allows developers to test their apps and collect feedback without any hassle. The cherry on top of the cake is that it's built with Flutter by one software developer in just one month. Read more about the journey from no Flutter/ Dart experience to a in-production app in one month [here](https://blog.codemagic.io/how-we-built-flutter-app-presented-at-mwc-19-in-one-month/). This guide will help you to [get started with Testmagic](https://blog.codemagic.io/getting-started-with-testmagic/). Since Testmagic was launched in Spain, it only makes sense to have the [getting started guide in Spanish](https://medium.com/comunidad-flutter/empezando-con-testmagic-5295af8853b4 ) too. Thank you [Argel Bejarano](https://twitter.com/ArkangelB) for translating the tutorial. 🙏 ![Testmagic Flutter](/uploads/2019/03/IMG_20190226_155402.jpg) Try [Testmagic](testmagic.io) with Codemagic for free. We're incredibly excited to see what you'll build! You can download Testmagic from [Google Play](https://play.google.com/store/apps/details?id=io.nevercode.testmagic&hl=en) or App Store (coming soon) "I created a mobile application in one month and now it's released on Google's stage! What a time to be alive! Thanks to all the folks at Nevercode for going through this journey with me. ❤️" - Andri Jasinski ## GDG Barcelona What would be a better way to launch a new product than celebrate and demo the product together with the Flutter community itself? While in Barcelona, we decided to meet local Flutter developers and treat them with Codemagic's latest product Testmagic and our experience of building an in-production Flutter app in one month. Feel free to read the full story [here](https://blog.codemagic.io/how-we-built-flutter-app-presented-at-mwc-19-in-one-month/). [Flutter special meetup: Codemagic and Flutter Channels](https://www.meetup.com/GDG-Barcelona/events/258361774/?isFromReg=true) was hosted by GDG Barcelona in Wallapop office. See Andri Jasinski from Codemagic sharing his journey with Flutter from a scratch and watch him demo Testmagic. You can also see Martin Jeret demonstrating how to set up your CI/CD pipeline with Codemagic. The guest of honor was Rohan Taneja who gave a presentation titled "Communication between Flutter and Native Modules".
## Flutter Talk Is it possible to book a recording studio in Barcelona in a day? We wasn't sure, but we decided to host a [Flutter Talks podcast](https://blog.codemagic.io/categories/podcasts/) session with the Flutter team. The first episode turned out to be extremely successful and we decided to continue with the Flutter Talks series. Our next episode concentrates on Flutter from the designer's perspective. **Will Larche**, Lead Flutter Engineer in Material Design, and **Jacob Kristensen**, Founder & CPO at **Reflectly**, take a walk to the design side. Good design does not have to be expensive, not with Flutter. No more compromises and bad designs! In this episode, you will hear about how Flutter is breaking the design rules and democratizing how beautiful native apps are made. Keep an eye on our **@codemagicio** Twitter or our [Codemagic blog](https://blog.codemagic.io/) to be among the first ones to listen to the new show. ![](/uploads/2019/03/IMG_20190225_140943.jpg "Flutter Talk") ## Next step: United States Codemagic CI/CD is on the road, and we are coming to the States! First stop is New York Flutter Developer Meetup on March 20. Join our CTO **Kristian Sägi** and **MH Johnson**, Software Engineer at Google, [here](https://www.meetup.com/flutter-nyc/events/257815257/). After that we will be in [Chicago Flutter Meetup](https://www.meetup.com/Flutter-Chicago/) on March 27. More dates and places will be announced soon. Join our [**community Slack channel**](https://join.slack.com/t/codemagicio/shared_invite/enQtNzQyODExMTQyMDcwLTQ2NTJjODE3NTA2Njg3Y2ViYmZiNGE1MWMyYWNjY2I0MzRmM2M2YmZhOTE1YTc5YjNkMmI0MzQzZWU0MzA4OGM) for Flutter or [sign up for our newsletter ](codemagic.io)to get notified first. Join us, we are looking forward to meeting you!
Click to tweet
Click to tweet
Click to tweet