Testmagic is another manifestation of our vision to make app development as smooth and effortless as possible for all the developers and development agencies out there. Keep reading to find out what is Testmagic, how it came to be and what is still to come.
What is Testmagic?
Testmagic is a simple and free mobile app for easy distribution and testing of your Android and iOS beta releases. It enables you to effortlessly distribute your CI/CD builds to connected devices for testing and to collect feedback to make your apps work like a charm.
In beta, the first integration available is with Codemagic CI/CD for Flutter apps. With Testmagic, you can see all the builds you have run on Codemagic and then immediately install the Android and iOS artifacts on your connected devices. There's also an option to provide feedback about the build and see the reports back on Codemagic.
That's Testmagic beta, but this is just the beginning. Rushing ahead of things, we promise that there will be more features and integrations with other CI/CD tools coming soon! Read more about it below.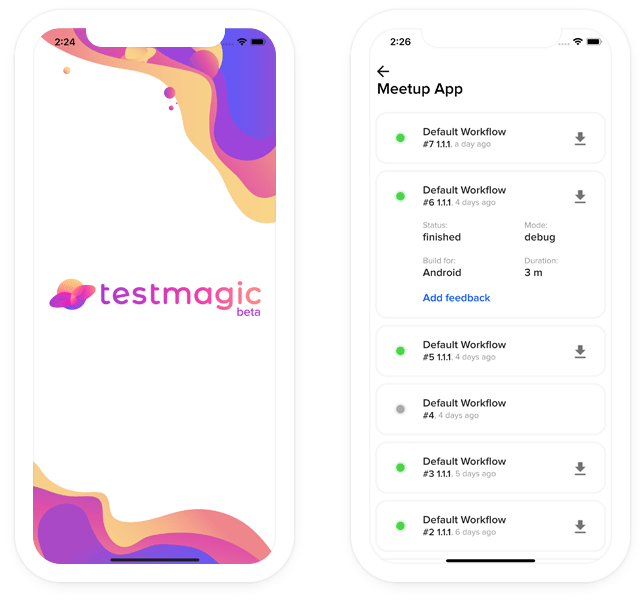 Download the Testmagic app for free and see our comprehensive getting started guide for using Testmagic with Codemagic here.
Testmagic for Android is available for download at Google Play Store.
Testmagic for iOS will be available for download soon.
Why we built Testmagic?
It all started when we at Nevercode fell in love with Flutter and eventually decided to create a completely new CI/CD tool exclusively for Flutter apps. That tool is Codemagic and we launched it at Google's Flutter Live event in December 2018.
We saw Codemagic CI/CD making a difference in the lives of Flutter app developers as we helped them build and deliver apps faster without any configuration hassle. We soon realized that we had made CI/CD available to a wider range of people all around the world by eliminating some of the constraints that cross-platform app developers may face. For example, with Flutter and Codemagic, you don't need to own a Mac anymore to develop, build, code sign and publish iOS apps.
But what if there was an equally easy way to distribute and test your builds across a variety of Android and iOS devices apart from good old email or Slack? There's Apple's TestFlight for testing iOS apps, but it covers only one platform. There's HockeyApp for testing both iOS and Android apps, but it's being merged into App Center. There's also Crashlytics that will soon become part of Firebase, just to name a few alternatives. However, what if you wanted something lightweight and easy to start with, something that's seamlessly integrated into the services you already use?
So we built Testmagic to provide this missing link in the pipeline between building the app and delivering it to the end user. Testmagic is integrated with Codemagic by design and does not require you to use any third-party services for distributing your beta releases. Testmagic makes it easy to check the status of your builds and instantly download and install build artifacts on connected iOS and Android devices. You and any other testers can then take the app for a spin and report bugs inside the Testmagic app with all the feedback ending up on your Codemagic account.
Oh, and guess what we used to build Testmagic? Flutter of course!
What will the future bring?
Testmagic integrates with Codemagic in its beta stage; however, integrations with other CI/CD tools is in the cards. Coming up next is full integration with Nevercode, an enterprise CI/CD service for building both native iOS and Android apps as well as apps created with various cross-platform frameworks like React Native, Ionic and Cordova. We are also committing to sharing access to other CI/CD services so you can easily distribute your beta builds without any clicks.
In addition to integrations with other services, we will continue to improve the core of Testmagic to bring to you a richer set of features for a better control over your builds. In the future, you will be able to see full build logs and trigger builds right from Testmagic. We will also expand our range of testing-related features so you can benefit from automatic crash reports and retrace user actions leading to them, and more.
It takes a lot of work and effort to achieve all this, that's why we are hoping to engage the community in the process. Testmagic will be an open-source project. We want the community to have a say in how Testmagic evolves to better meet their needs and requirements. Developers looking to contribute to it will be able to add integrations and features as they see fit to build a useful, hassle-free and easy-to-use product.
To sum up
We genuinely hope that Testmagic will brighten up the day for many Codemagic users and will soon become the product we dream of with the help of the community. Feel free to try it out and submit your feedback and feature requests in the #testmagic channel in our Slack community for Flutter and CI/CD and approach us on Twitter @testmagicio or Facebook @testmagicio.
PS. If you're looking for a free HockeyApp or TestFlight replacement, it's likely you will soon find it at testmagic.io.