From the world-changing idea to a five-star review on Google Play Store or App Store fits a lot of good, bad and ugly.
Let's dig into the curious case of an app development lifecycle.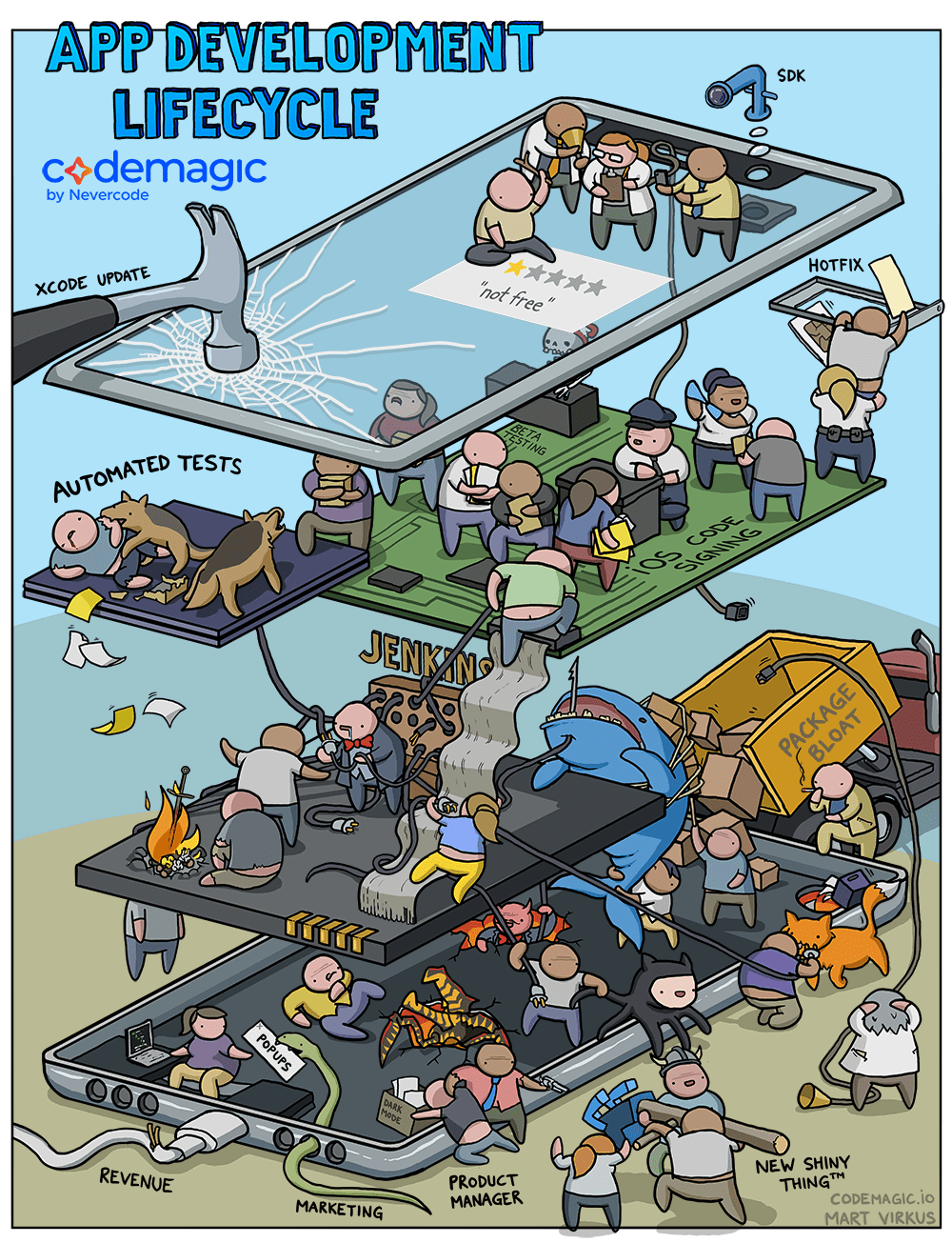 CI/CD for Android, iOS, React Native & Flutter apps
Codemagic is a continuous integration and delivery service for mobile applications that can save you 20% of your mobile app development time.
In short, continuous integration (CI) is a software development practice of merging developer build copies daily, if not multiple times a day, into a shared code repository. Each integration is verified by an automated build to detect errors and get to the root of the problem as soon as possible without losing track of the development process (confused about how CI for mobile differs from CI for web apps?.
Continuous Delivery (CD) is all about the ability to continuously deliver integrated code, be it bug fixes or new features, to testers, customers or to the stores. It means that your "green builds" are ready to go in one click, should you wish to release them.
Take a look at this complete guide to what is CI/CD
Top 10 reasons to use CI/CD for your mobile apps
You want to distribute apps to app stores faster than your competitors. Automatically publish your product updates or new feature releases without human interaction. Take a look at how Criton managed their team to decrease publishing time by 95%.

You understand the importance of code signing but wouldn't mind somebody else taking care of it. In fact, iOS code signing might be the last bottleneck to that five-star app review but it's often also the most painful part of releasing the app. Codemagic helps your team with manual and automatic code signing [Video tutorial], so you can build great products faster.

You have chosen Linux or Windows as your go-to operating system and platform of development and your team is not ready to invest into expensive Mac machines just yet. We get it! Based on signup data, 65% of Codemagic users build on Windows or Linux.
See how you can develop and distribute Flutter apps for iOS without a Mac.

You are still using Jenkins for your mobile applications. Jenkins is the Swiss army knife of CI tools. It has an extensive plugin ecosystem that features almost everything development teams might want to install thanks to the open-source community. That makes it highly customizable but…
Read all the other reasons developers have mixed feelings about Jenkins.

You want to detect and fix issues early. Let's be honest. Everybody knows that testing your mobile apps is a must but writing tests is often skipped, or then broken tests are abandoned and never rewritten because it seems like it just takes too much time to do it.
With various kinds of automated tests in your CI pipeline, you'll be able to know what to fix as soon as a test fails.

You want to get fast feedback on the quality and impact of the changes you made. CI/CD will provide you with a quick answer to the question "did I break something?" for each commit. You want to increase transparency and visibility in your dev team. When your CI/CD pipeline is set up, your entire team will know what's going on with the builds as well as get the latest results of tests, which means they can raise issues and plan their work in context.
Take a look how Qvik app development agency is keeping testing, building and publishing as streamlined as possible.

You want to avoid "integration hell". Integrating smaller pieces frequently will likely turn out better than merging huge changes all at once. Continuous integration supports connecting the pieces of your software every day.

You want to improve quality and testability. A study from Compuware finds that only 16% of users are willing to give a buggy app a second chance.
Quality may precisely be what sets you apart from your competitors.
Arming your developers with the best tools out there is definitely key to a quality product. Codemagic has been rated the top CI/CD according to Flutter user survey by Google.
Conclusion
As you can see the route to a five star review on Google Play Store or App Store might be quite tricky. Each layer of mobile app development lifecycle adds its own unique set of challenges. Codemagic takes care of developing, testing and distributing your mobile apps so you can focus what actually matters - writing the code!
Happy building,
Team Codemagic
---
This post is made in co-operation with Mart Virkus. You can find more of his comics on games, pop culture and darkness on Arcade Rage facebook page. Make sure to Follow not to miss the next cool post!