Codemagic celebrates its 1-year birthday this December and we have some good news to share. It's been a magical year packed with loads of new features. We have evolved into a more professional, more capable and more accessible continuous integration and continuous delivery service for Flutter apps — but not only. Continue reading to find out about the major milestones this birthday marks.
High-quality service for all your apps
We started out being dedicated to Flutter and building apps for two platforms — Android and iOS. When Flutter added support for web and desktop, so did we because we are committed to supporting Flutter developers to let them create beautiful apps in record time, and as such we stay up to date with the major Flutter releases. As a result, developers are able to build apps for Android, iOS, web, macOS and Linux even before those features are merged into master or released as stable.
Recently, we released another major feature — codemagic.yaml. This enables to configure all Codemagic workflows in a single configuration file that you can keep in your repository and submit to version control. The configuration file can be easily exported when you have an existing project set up on Codemagic, but you can also create a custom YAML configuration from our template, see our documentation for instructions.
Having CI/CD infrastructure as code with the codemagic.yaml file unlocks some major opportunities. You can now also build apps other than Flutter, such as native Android or iOS. Codemagic builders have all the necessary tools pre-installed, so it's up to you to determine which commands will be run during the build. This capability comes in handy when you're considering adding Flutter modules to existing Android or iOS apps. Check out our guide for adding Flutter modules to Android projects here.
Greater customizability and more resources for enterprises
We have been witnessing an increasing interest in CI/CD for Flutter apps by companies since the launch of Flutter 1.0. Professional use requires a professional service, and this is what Codemagic has evolved into.
Codemagic offers companies enterprise plans tailored to their specific CI/CD needs. Our enterprise plans come with greater customizability in terms of hardware, software and service. We offer powerful Mac Pros, dedicated machines with custom configuration and private network, concurrent builds, enterprise-level user & role management, dedicated support, NDAs & SLAs. If you're interested in more resources or have requirements that exceed our standard plan, check out our enterprise page and contact us for an offer.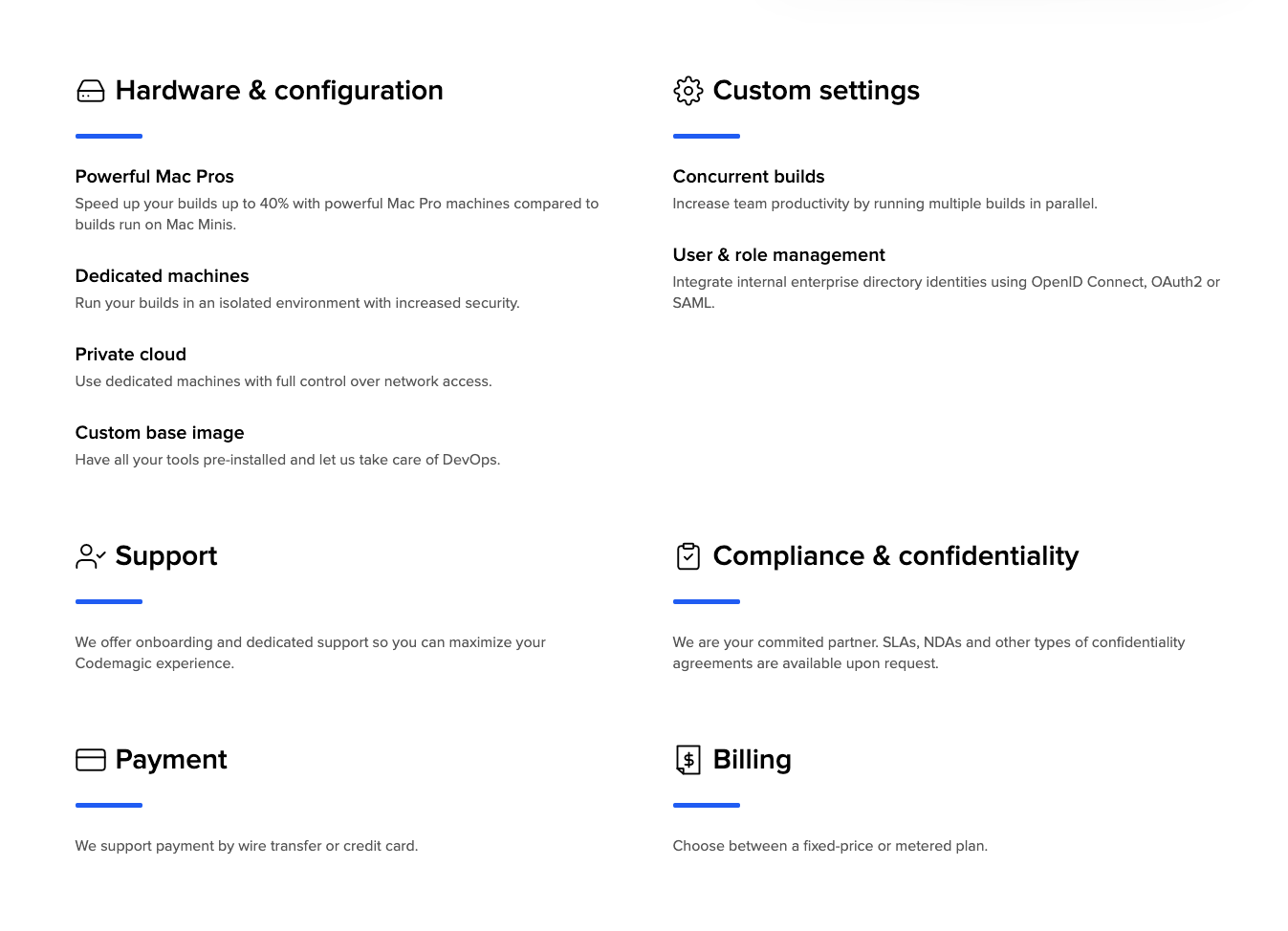 What is more, you don't need to arrange a demo to try out Mac Pros. With our Build with Mac Pro offer, we give all Codemagic users the opportunity to run 3 builds on a Mac Pro without any additional cost.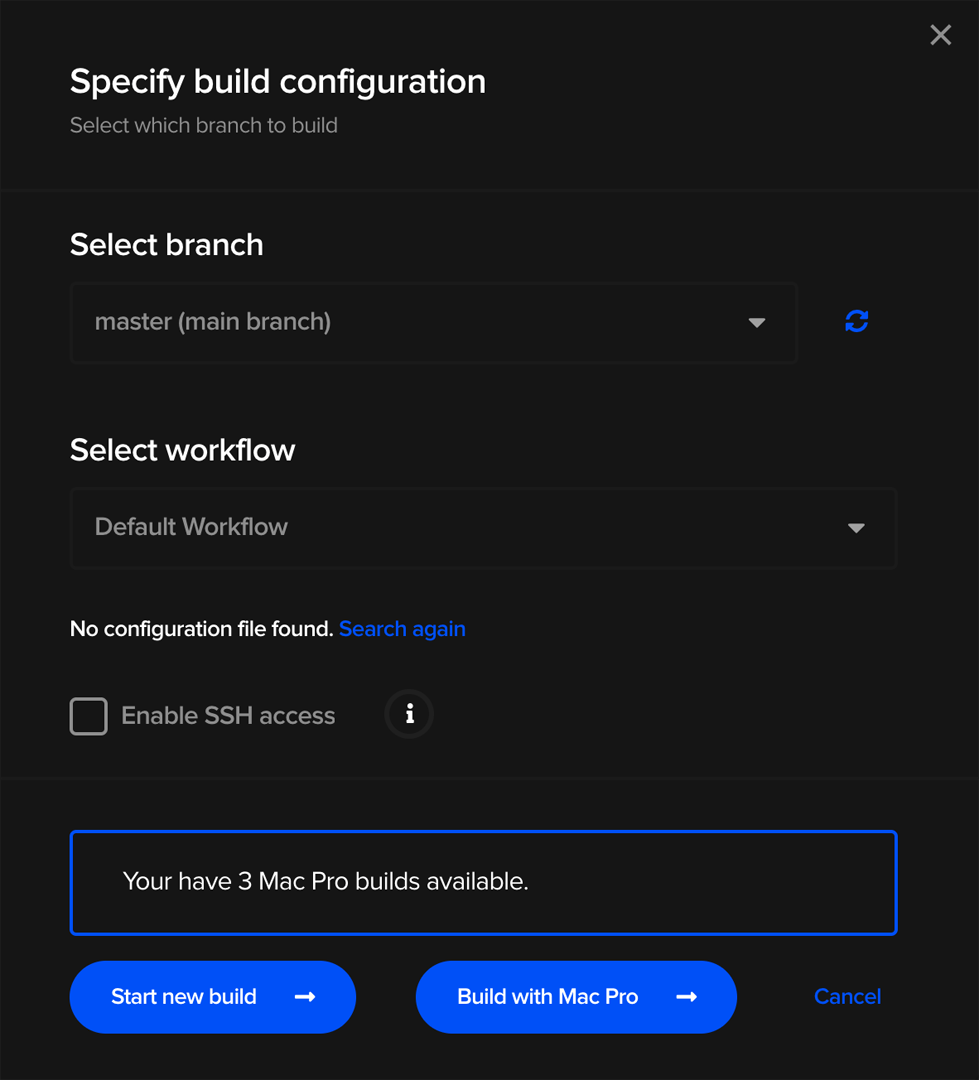 We promise you won't be disappointed! Users that have migrated to Mac Pros have seen up to 50% faster build times compared to builds run on Mac Minis. Take advantage of this offer now and get first-hand experience with faster builds thanks to more powerful machines.
Continuing democratization of app development
Very much like Flutter, at Codemagic we believe that empowering creators and visionaries with technology will help them realize their ideas.
A lot of Codemagic users are developing Flutter apps on Windows or Linux with no access to a Mac computer. Codemagic is the missing link from Flutter to end users by enabling users to build an IPA and deliver it to App Store Connect thanks to automatic code signing and provisioning with full Apple Developer Portal integration.
A big part of our philosophy is offering a free tier of service. Every month, Codemagic users get 500 minutes of build time and up to two seats in a team for free. In addition, our pay-as-you-go pricing model gives individuals and teams the flexibility to keep their CI/CD costs under control and pay for only as much service as they actually use.
Codemagic is also committed to supporting open-source projects. If you're working on an open-source project or would like to use Codemagic for educational purposes, contact us and tell us how we can help.
Last but not least, Codemagic has become a community-favorite CI/CD tool for Flutter applications. There are over 1,600 members in our Slack community, so we really feel your love! Moreover, during the past 3 months, the Codemagic team has also been contributing to the Flutter community by performing front-line triage of issues in several Flutter repositories as an official partner of Google. The triage work has given us a better understanding of the issues that the broader Flutter community faces. If you're interested to know more about how issues work in Flutter GitHub repositories and how you can contribute to Flutter, you can read about it here.