The first System Administrator Appreciation Day was celebrated on July 28, 2000. Since then it's an annual event that is celebrated on the last Friday of July. This day exists to show appreciation for the work of SysAdmins, Mobile DevOps and other IT workers 🙏.
We believe that this day needs to get more attention and is definitely worth celebrating! Therefore we decided to give 50% OFF on our annual Professional plan with promo code SYSADMIN2022!
This means that for only $299 $149 a month (paid annually), you will get:
unlimited access to premium macOS, Linux, and Windows VMs
unlimited team seats
3 concurrent builds
in-app support
The offer is valid until August 1st, 2022! All you need to do to get the deal is use the code SYSADMIN2022.
Get 50% off the @Codemagicio unlimited Professional plan on #SysadminDay 2022 with the code SYSADMIN2022
Click to tweet
---
Currently, we are offering 500 build minutes for free for solo players and a "pay as you go" model for teams. This means you will only pay for what you use and not a dime more! But for small to medium businesses with large projects and multiple team members, it makes sense to upgrade to a fixed Professional plan. This is especially useful if you've been hesitant to build on a push to feature branches or run tests on PRs because the minutes may rack up to over 10,000.
The unlimited plan helps you to predict your CI/CD costs and build without making any discounts in quality!
Remember, the System Administrator Appreciation Day flash sale only lasts until August, 1st 2022, so don't waste too much time thinking about it!
How to use Sysadmin Day discount promo code SYSADMIN2022
To benefit from this year's Sysadmin Day flash sale, you'll need to:
All set? Cool! Here's how you grab your 50% discount:
Moving from "pay as you go" to a Professional plan
If you're upgrading from a "pay as you go" plan, just go to billing inside the app, and insert the promo code SYSADMIN2022 into the corresponding field here.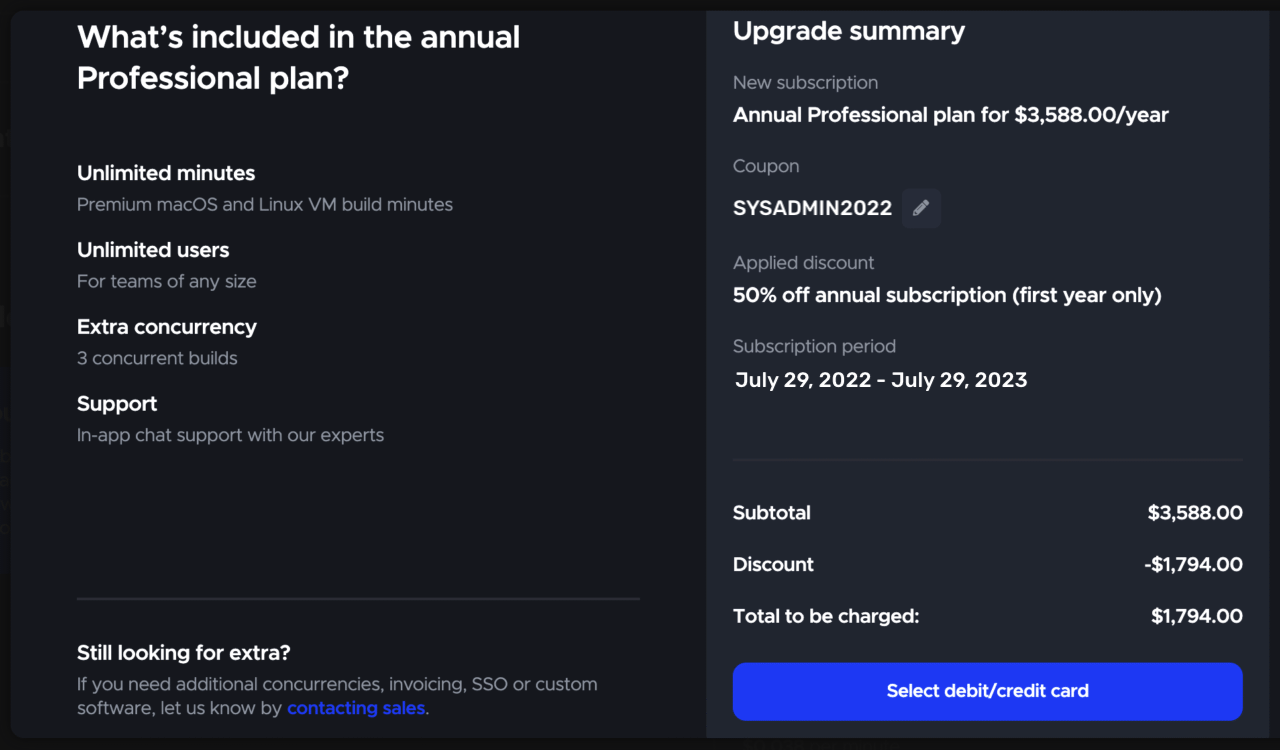 Wow, now a 50% discount is applied! Magic! Just finish the process, and enjoy a year of getting maximum value out of Codemagic for just $149 a month.
Applying the discount for a team that is already on a Professional plan
Already on a Professional plan with a monthly subscription and can't just upgrade? Don't worry – you can contact us, and we'll make sure that you get the desired 50% price cut. But remember to do this no later than August 1st, 2022!
Thank you!
Your request has been sent and we will contact you as soon as possible!
Liked the 50% discount? Share Codemagic's deal with your friends and colleagues!
Get 50% off the @Codemagicio unlimited Professional plan on #SysadminDay 2022 with the code SYSADMIN2022
Click to tweet
Happy building!
Team Codemagic